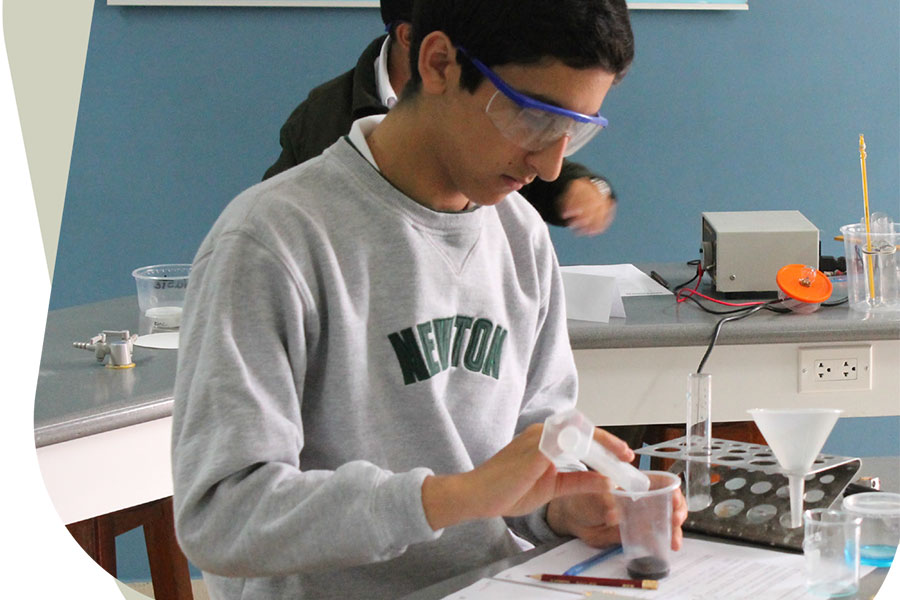 (Top 1% of world IB students)
Juan Pablo Tabja completed the IB Diploma Programme in November 2017. He obtained the maximum score of 45 points. To put into perspective what a remarkable achievement this is, we need to refer to the official 2016 IB statistics for the Diploma Programme: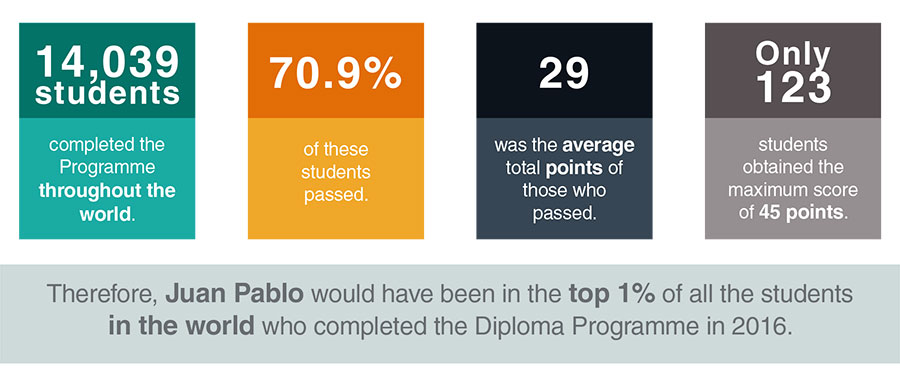 Below Juan Pablo explains the qualities, skills and support that one needs to successfully complete the Diploma Programme. He also explains how the experience has changed him and prepared him for life as a university student and as an adult.
1. WHAT IMPORTANT PERSONAL QUALITIES DID YOU DEVELOP BY DOING THE IBDP?
I developed perseverance because, for instance, teachers did not always like your first draft, so you had to regularly improve your work. I also became a more empathetic and well-rounded person, especially thanks to CAS. I developed patience and humility as well, and these qualities were crucial since there were times when many of us were sensitive and stressed out.
2. WHAT IMPORTANT ACADEMIC 2 SKILLS DID YOU DEVELOP?
I learned how to efficiently manage my time and become more organized, which was very important since I needed to balance not only my IB courses but also my extracurricular and social life. Teamwork is another skill I developed, as we often had to do group projects, and my classmates and I helped each other in different subjects (if one was better in say, maths, they would help someone who was good at Spanish, and vice-versa). I also developed the ability to study thoroughly without wasting time.
3. WHAT WERE THE BIGGEST 3 CHALLENGES?
In terms of assignments, I think the biggest challenges were the internal assessments and the TOK essay, because they require a great deal of research, thought and reflection (not that the extended essay doesn't, but you have more freedom with your EE and generally you choose a topic that interests you or that you enjoy). It was also quite challenging to meet all the deadlines — especially if you wanted to hand in your best work — since they tended to become more frequent and important. These deadlines and the exams themselves generate a lot of stress, and not succumbing to it can be difficult at times.
4. WHAT EXPERIENCES DID YOU 4 ENJOY THE MOST?
I enjoyed walking into the common room every day, seeing my friends and classmates and knowing that all of us were going through the same experiences. There is something heartening about the 'collective suffering' — probably the fact that you're able to share the challenges with your closest friends, who understand you, give you advice, show you their support, etc. You make bonds which are extremely hard to break.
5. WHAT HABITS AND ROUTINES MAKE A SUCCESSFUL DP STUDENT?
I believe that not procrastinating is one of the most important habits for a successful DP student, because otherwise. time runs out due to the sheer amount of work there is to do. Organization and constant revision are also valuable, although not overdoing it — that is, making sure you have time to relax and have fun is also essential.
6. WHAT WOULD BE YOUR ADVICE TO OTHER STUDENTS IN UPPER SCHOOL?
Be kind to your peers and don't be afraid to ask them or your teachers for help. Don't alienate yourself or skip class. Don't neglect other things that aren't school-related. Do choose your courses very wisely, and make sure you are organized from day 1.
7. HOW DID YOU MAINTAIN BALANCE 7 IN YOUR LIFE?
I didn't lock myself in my room and isolate myself. If I wanted to see my friends, go out, have lunch with my family, or do some other activity, generally I would do those things (but you can't say yes every time, it's important to know when you can and can't distract yourself). I think at times you need to do nothing — if your body is telling you that you are tired, relax, take a nap; don't think it's a waste of time, sometimes it's just what you must do.
8. HOW DID OTHER PEOPLE 8 SUPPORT YOU?
My friends comforted me and cheered me up when I was feeling unmotivated or anxious. My parents didn't put any pressure on me, and they assured me that whatever happened, in the end everything would be fine. It was clear that my teachers were devoting a large portion of their time and effort to us, their IB students, since they always went beyond the classroom and offered extra help and advice.
9. DO YOU THINK YOU HAVE CHANGED AND IF SO, HOW AS A RESULT OF THIS PROCESS?
Although at my very core I think I am still the same, I have become more mature and have learned to deal with stress more efficiently, which is something I'll definitely need to do as I go to university and become an adult.
10. WHAT ARE YOUR FUTURE 10 PLANS?
In the long-term, I would like to become a doctor. Aside from career-related goals, I don't really have much in mind. I think it's better to focus on the present, on what you can do right now.
Overwhelming evidence supports the claim that quality early childhood education (ECE) facilitates cognitive development, especially in literacy and numeracy, as well as the development of social skills and personality traits. Newton College has provided quality ECE for 25 years and can confirm that its principal benefits to pupils are the following:
1. HOLISTIC BENEFITS
In his State of the Union address in 2013, President Obama announced that the USA needed to invest more in early childhood education (ECE) because: "In states that make it a priority to educate our youngest children…studies show students grow up more likely to read and do math at grade level, graduate at high school, hold a job, form more stable families of their own." Quality ECE gives pupils a head start in all walks of life.
2. COGNITIVE GROWTH
The Organization for Economic Cooperation and Development (OECD) has reported that PISA scores strongly suggest that 15-year-old students who attended a quality preschool for at least one year or more perform better in PISA tests than those students who did not attend such a pre-school.
3. BRAIN DEVELOPMENT
Neurological research confirms that brain development is most rapid in the first few years of life, especially if the brain is exposed to a range of quality experiences and interactions. In young children the brain is like a sponge that has a strong capacity to adapt and develop. This capacity slows down with age.
4. SOCIALIZATION
In nursery school children learn to share and collaborate. They learn how to be patient and take turns. They learn how to interact with other children and adults. In short, they begin to understand the importance of respect for themselves, for others and for the natural world. Socialization helps children to overcome shyness and gain self-confidence.
5. CONCENTRATION
Young children are full of curiosity and keen to discover. By engaging them in motivating activities we increase their concentration span in various ways. We train them to listen carefully to instructions, to stay on task and not get distracted. They are trained to pay attention to what their peers are saying and doing in a collaborative task and to stay focused when working independently.
6. CONFIDENCE AND SELF-STEEM
A safe and caring classroom environment helps children to develop confidence and strengthen self-esteem. Positive interactions with other children and adults promotes a healthy and secure view of themselves. They reflect on how they are learning and behaving and evaluate what they can do to improve. They discover their talents, skills and interests.
7. RESILIENCE
By creating a safe and caring classroom environment, children are encouraged to take risks and learn from their mistakes and overcome them. They assume challenges and persevere longer to complete a difficult task. They learn to manage their emotions better and not get easily discouraged.
8. JOY OF LEARNING
By engaging children in motivating activities they regard learning as fun and enduring. Reading and numeracy are just as enjoyable as structured play. Permitting them a variety of ways to communicate their knowledge and understanding caters for their different learning styles. They begin to appreciate the value of education and this lays the foundations for becoming successful, lifelong learners.
9. ACCEPTING DIVERSITY
By By being in a school community children begin to understand that each one of them is unique. They learn that some people come from different cultures, have different beliefs and celebrate different traditions. They appreciate the diversity of nature and man's interdependence with the natural environment. They begin to understand the concepts of equity and fairness for everyone.
The London College of Music (LCM) exam is an international certification that offers degrees and diplomas in music throughout a chain of evaluation centres around the world. LCM is the only institution endorsed by a university, University of West London, which offers a wide range of exams covering all levels of execution, a varied repertoire according to each level and a system of university credits, through which students who take and pass the exam from level 6 to level 8, can validate some credits if they choose to study at a university in England.
The preparation for the LCM exam is very rigorous and for several months 43 students from Lower and Upper School participated in extraordinary rehearsals, learning and mastering demanding pieces that are part of the repertoire of the LCM exams. They, together with the Orchestras and the Suzuki Violin Ensemble, showed us that with dedication, passion and commitment everything is possible. The excellent results obtained speak for themselves.
Our nursery school classrooms and facilities are now 25 years old and so we have decided to replace them with a modern, state-of-the-art nursery school with bigger and more comfortable classrooms and facilities. Our current rooms will be replaced by the infrastructure shown in the video above and in the pictures below. At present we have 728m2 of construction, next year we will have 1,494m2. Due to the innovative design of the new campus we will not be reducing the amount of green areas; in fact, each Level will have its own independent garden and patio.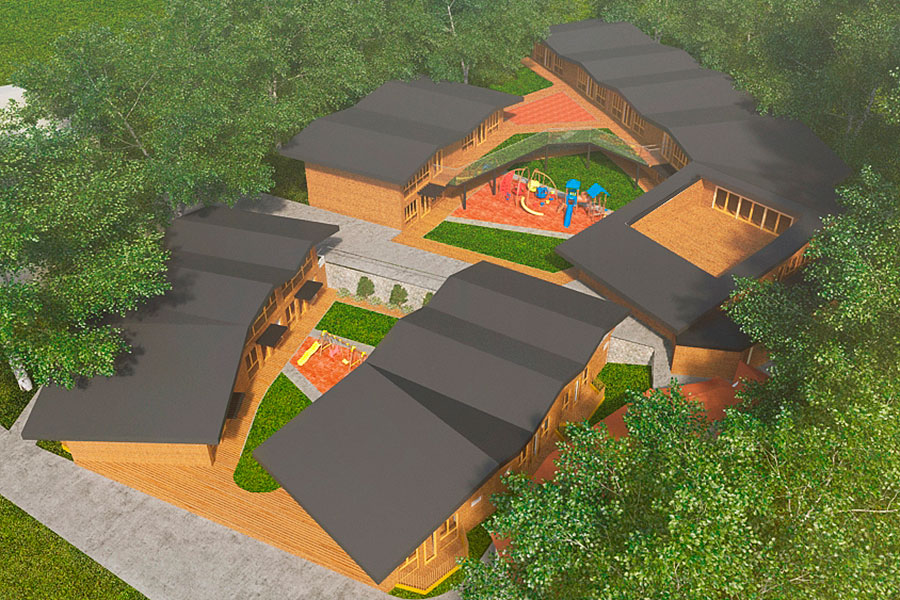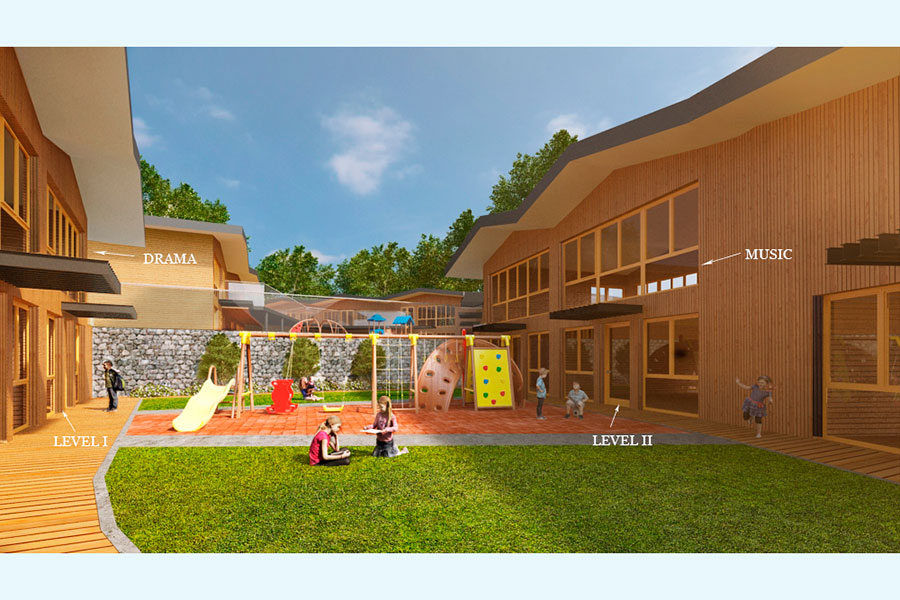 Take note: To get to the new and more spacious Music and Drama rooms, the pupils will go up a gentle ramp which will be built around the back of the rooms. They will not need to go up any stairs.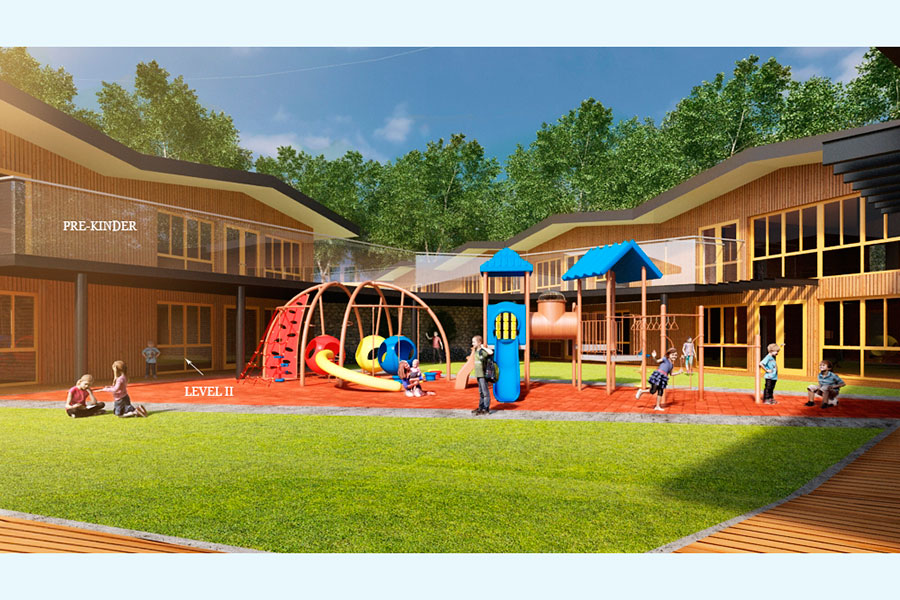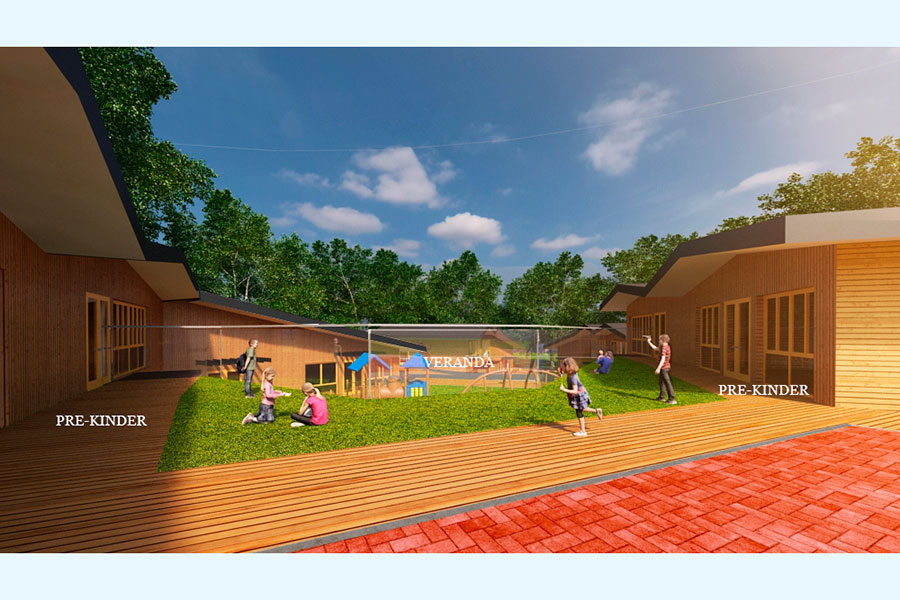 Take note: Although pre-Kinder seems to be on the second floor above Level 2, the entrance to the Pre-Kinder classrooms will be round the back, going up the sloped garden which will be their main play area. The pupils will not need to go up any stairs to get to their classrooms.
There will be six classrooms of 63 m2 (the current rooms are 36 m2) and they will have bathrooms for the pupils and the teachers incorporated in them. They will have completely new furniture which is specially designed for 2-3 year-old children. These rooms will accommodate 15 pupils who will be supervised by one teacher, one assistant and one auxiliary. They will be ready when the new academic year begins for Early Year.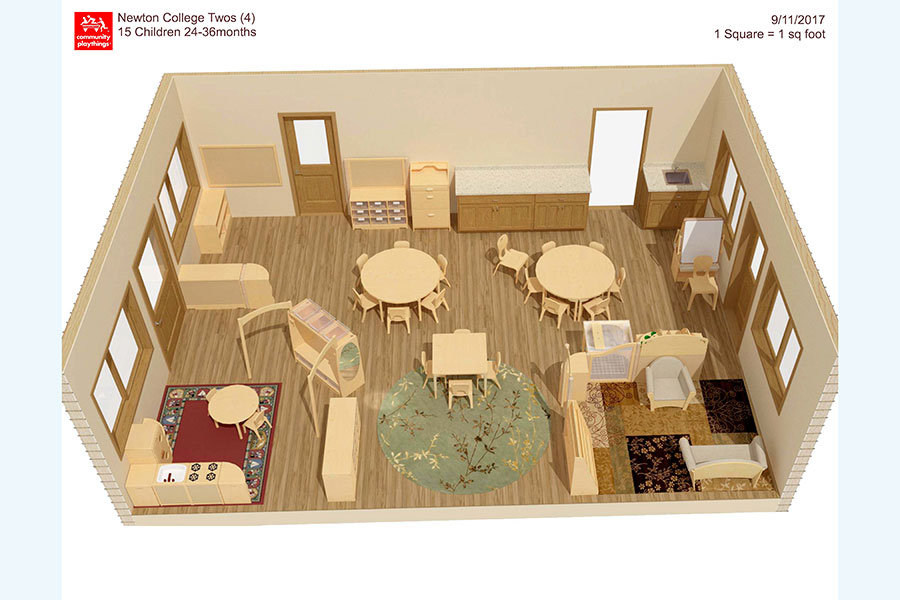 There will be six classrooms measuring 93m2 (our current rooms measure 36 m2) and they will have bathrooms for the pupils and the teachers incorporated in them. These rooms will accommodate 20 pupils who will be supervised by one teacher and two assistants. They will be ready by June 2018, from March to June, classes will take place in temporary classrooms.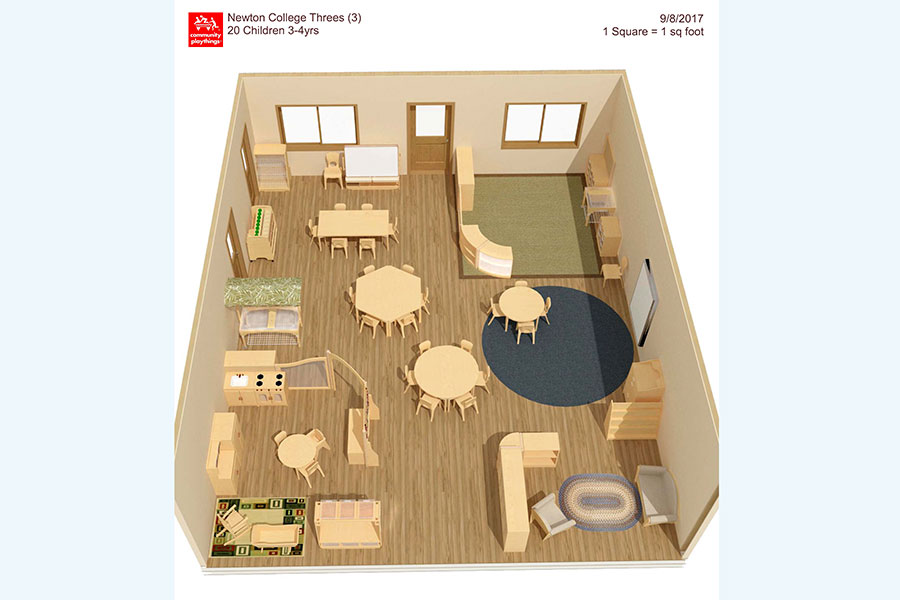 There will be six classrooms measuring 93m2 (our current rooms measure 46m2) and they will have bathrooms for the pupils and the teachers incorporated in them. These rooms will accommodate 20 pupils who will be supervised by one teacher and two assistants. These classrooms will be ready in June 2018; from March to June, classes will take place in temporary classrooms.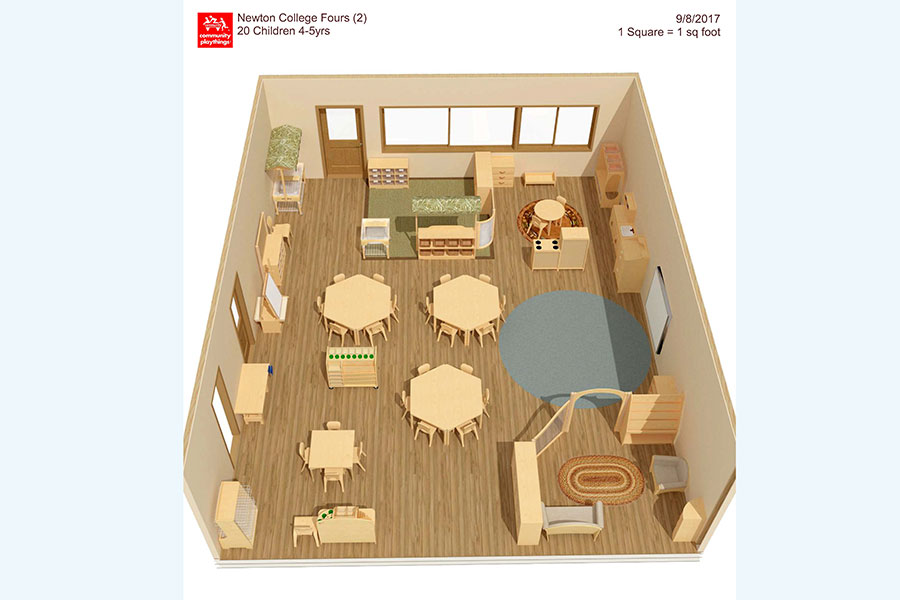 Optimal use will be made of natural sunlight and crossed ventilation so that the rooms are always well illuminated and ventilated. Also, the walls and roof will be insulated in order to improve acoustics. All materials and furniture are being carefully selected so that once new nursery school is completed, it will obtain a LEED certification (Leadership in Energy and Environmental Design). The new furniture is made from wood which is FSC (Forest Stewardship Council) certified.
The larger classrooms will allow us to have better equipped stations in each room where the pupils will be able to do their art and construction work, read and dramatize with more comfort. The incorporated bathrooms will increase security as neither teacher nor pupils will need to leave the classroom in the future.
We are confident that our new nursery school will enhance teaching and learning and will facilitate fulfilling our mission, namely to ensure that your children become "well-rounded and successful citizens".
Dance is much more than an artistic demonstration, it is a discipline which favours many areas of our daily life. Dance gives us vitality, health and balance; it helps to alleviate stress and to break the routine. It is a means of communicating feelings, transmitting a message, telling a story.
From a pedagogical perspective, dance not only reinforces artistic sensitivity, it also promotes socialization, and cultural and intercultural knowledge, which in turn favour acceptance and tolerance.
Last week Newton College was host to and participated in the 2017 ADCA Dance Festival. The fifteen participating schools demonstrated an explosion of colour, rhythm and passion that reflected different cultures. Our 106 participating pupils and dance teachers, performed a spectacular show, full of energy, rhythm and discipline. Congratulations to everyone involved!
The Lower School Drama Club wanted a theme that was relevant for their age group and also, an important issue for society to address. Somebody thought of the children in "Oliver Twist", another person thought of an NGO that worked with orphans. All of a sudden, the lives of street children in Peru came to mind and the theme was chosen.
Discussions then took place on the messages we wanted to transmit. Be grateful for what you have - a family, a home, food, a school. A home without love and attention is emptier than living on the streets with friends. You can't have everything.
After researching into the lives of street children, we worked on the storyline and scenes. The scenes led to dialogues some of which became part of the script. Music was chosen with lyrics that reflected the scenes. The Lower School choir learnt the songs and the orchestra learnt the music.
Then it was rehearsal after rehearsal. We learnt how to vocalize clearly, how to use body language and intonation effectively, how to pause before certain lines for greater impact. We got into the minds and persona of the street children we SEE every day but who are INVISIBLE.
The final product was the presentation we gave on stage for which we received standing ovations. However, more important than the product was the process. We learnt about the importance of empathy, perseverance and team-work. Thank you to all our teachers for giving us this opportunity to grow and to express our opinion about the importance of children's rights.
Darkness engulfed us, as we floated in a small wooden boat in the middle of the jungle. A faint, liquidity glow on the horizon made it a world of shadows.   The stillness was interrupted, not by my silent companions, 10 wide-eyed 12-year-olds who had voluntarily woken up before dawn to be here, but by a low rumble.  Growing in intensity, the sound was like the tapping of a taunt drumskin transforming into an urgent pounding. This was echoed, no answered, by a deep throbbing from the other side of the lake. All around us, a cacophony of sounds erupted out of the shadows.  We were surrounded! The jungle was waking up! 

Later, my group silently, crashed through the jungle over and under trees, through thick vines, and thicker mud that grabbed at our boots.  Then in a clearing above, a shadow alighted on a tree.  Cramming our necks, we could just make out the white, fluffiness of a juvenile Harpy Eagle.
These experiences were part of the recent Form I trip to the Sachavacayoc Centre in the Tambopata National Reserve. An experience unique to Newton students. Newton College owns and operates the Sachavacacayoc Centre, where the classroom is the jungle and the lessons are experiences that instill the principles of interdependence and independence. Experiences include guided jungle walks, night excursions searching for wildlife, and interactions with indigenous knowledge and customs. The students utilize their communication, science and mathematical skills to describe, quantify, and reflect on these experiences. Overall, an appreciation emerges of the interconnection between all organisms and their environment - interdependence. Further, these experiences require students to confront their doubts and fears fostering a growth in their self-confidence - independence. Truly lessons that are never forgotten!
We are pleased to launch our new institutional video. It highlights the educational philosophy of Newton College, our holistic and balanced curriculum and our emphasis on the formation of character based on our school values. It focuses on the varied activities that our students engage in inside and outside the classroom, and reinforces our mission, namely that our students should become successful citizens who actively contribute to the well-being of their local and global community.

We hope you enjoy the video.
WHY DID YOU CHOOSE NEWTON COLLEGE? Through this video you will get to know the opinions of Early Years parents, who explain why they chose Newton College as the best educational option for their children of two to five years of age. They emphasize the importance of our balanced and bilingual curriculum in which emotional growth is the foundation for the acquisition of knowledge and the development of skills, with very committed teachers and in a beautiful and spacious campus.
Due to the expansion and modernization of our nursery school we have additional vacancies for 2019 and some for 2018. If you are interested in applying, please press here.
On Monday, 14th August, the First Lady of Peru, Mrs. Nancy Ann Lange, addressed our Upper School students on the importance of social responsibility and volunteering. Mrs. Lange has worked in over 40 countries and in some of them she volunteered for community work. She recounted the strong community spirit which existed in her own birthplace, the village of Rock Springs in Wisconsin with a population of around 400.
Those inhabitants of Rock Springs with the relevant knowledge or expertise would provide medical and academic help to those who needed it; in the case of an emergency fire, they would become firefighters; when someone needed to go to neighbouring town, those with a vehicle would transport them. She emphasized that it was very important to create such a community spirit in many parts of Peru.
She also pointed out that according to recent research, volunteering has many positive side effects: it benefits physical and emotional health (e.g. it reduced stress); it develops important personal qualities (e.g. empathy, teamwork, resilience); it improves one's academic CV and the possibility of being accepted by universities and for potential job opportunities.
Following her speech, a panel of students asked her questions. For instance, she was asked how her multi-cultural experiences in different countries had helped her in the social work. She replied that such experiences had taught her the universal value of gratitude. The most humble people throughout the world demonstrated extraordinary gratitude for the little they had in life. Those who were more fortunate should never forget the importance of gratitude.
After her very inspiring speech, the First Lady –or the First Volunteer, as she prefers to call herself– spoke to some of our Prefects about the CAS projects they are currently involved in. They described to her their challenges, failures and successes. She reassured them that all their experiences would benefit them and encouraged them to persevere, armed with a good sense of humour and gratitude.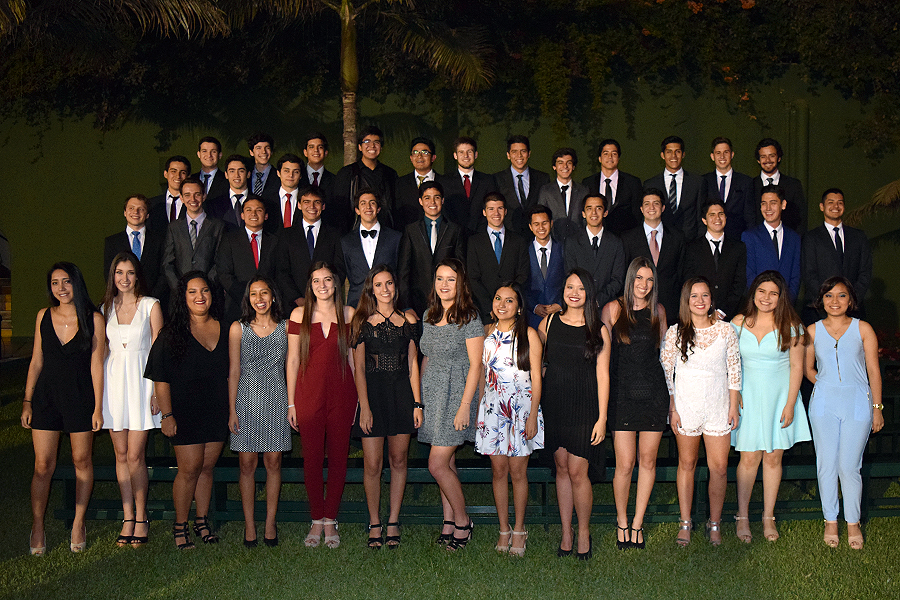 IB DIPLOMA RESULTS
In January 45 of our students learnt that they had officially obtained the Bilingual IB Diploma. Therefore, 93.75% of the cohort that took the exam passed (as opposed to 79.3% worldwide in the May 2016 session). Moreover, 100% of them obtained Bilingual diploma whereas around the world it was 24.5% of the diploma graduates. Furthermore, the average score of our students was 33 points compared to a world average of 31 points.
We would like to congratulate our students for these excellent results. They have already entered the best universities in Peru and abroad, obtaining academic credits, course accreditation and significant scholarships. Three of them will study in the exclusive university of New York in Abu Dhabi where they annually accept just 320 of the brightest students from all the world. They will complete their studies in four years with scholarships of up to 100%.
Completing the IB in Form VI is an important investment which opens many doors to a greater variety of university and professional careers. Leaving the programme at the end of Form V is depriving oneself of such unique opportunities.  As one of our students has described the experience:
"I don't regret completing the IB at all. It is an incredible experience that every student should go through. I have grown so much this year that looking back at who I was in 2015 makes me proud of who I have become…The IB has indirectly taught me skills that are certainly needed for university and life: organizing my time, being more responsible and becoming a more independent person with the ability to make smarter decisions." (Luciana Garcia – Diploma Graduate 2016)
EDUCATIONAL TECHNOLOGY
Newton College has signed an agreement with Google for Education to be the host site in Peru for a 12-month online course, called Google Impact. One hundred teachers from all over Peru, including 30 from Newton are learning about the best use of technological applications in education. They are already using with our students Google Docs, Blogger, Google Classroom and Google Communities.
It is the first time that Google offers this course in Peru and on completing it, the teacher receives the qualification "Google Certified Teacher".
IB PYP Best Practice
The PYP Exhibition involves 5th Grade students inquiring into world and local problems, reflecting on their learning, and taking action to create solutions.
In 2016, the central idea was "Organizations have the responsibility to sustain the future of the Planet". Our 5th Grade students created their own sustainable businesses – including logos, webpages, marketing pitches and products. They also found NGOs that work in fields similar to those at the centre of their investigation, so that they had a sustainable place to donate their profits. The success of the Exhibition at Newton College has led to a publication in Sharing PYP Blog, which focuses on excellence in IB practice (leer aquí).
In other exciting news, the NGO Pronaturaleza was inspired by one of our group's projects, Ecolife, and set up a foundation to support it. The main aim of the EcoLife foundation is to provide educational workshops, projects and scholarships to children in Peru, so as to improve their quality of life and their understanding of the environment and how to protect it. The Executive Director of Pronaturaleza described this foundation as,​"By the kids, for the kids" and welcomed our students as his "business partners". To find out more please visit their site.
Congratulations to Andrea Pardo, Alec Socolich, Tanisha Esteves and Joaquin Gomez for this huge achievement, and to all those involved in the 5th Grade Exhibition of 2016.
Universidad Peruana de Ciencias Aplicadas (UPC) has just signed an agreement with the Northern Consortium of universities in the United Kingdom (NCUK), which will allow those students who obtain their IB Bilingual Diploma to obtain a British university degree in just 3 years. They may study the first international year of their course in UPC and the remaining two years in one of the NCUK universities.
Representatives of NCUK came to speak to our Form V and VI students and explained the major benefits of the agreement:
Obtaining a British university degree in 3 years;
The option of studying the first international year of the course in Peru;
The wide choice of careers offered by the 16 NCUK universities;
The financial savings: British university fees are around US$15,000 per year;
The high world rankings of the NCUK universities (six of them are in the top 200). 
As a British school Newton College is very pleased with this agreement and hopes that it will benefit many of our future IB graduates.
This year the IB Theatre Arts students produced "Ciudad de Reyes", nine mini plays which revolved around the theme of inequality in Lima society. The plays addressed such topics as socio-economic and gender discrimination, exclusion of pupils with physical handicaps, chauvinistic fathers, abandoned old people and other social injustices. The genre of realism led to very powerful scripts that moved and impassioned the audiences. There were some outstanding performances both by our actors and musicians.
During the event, the Humanities and Art Departments reminded us of the work of individuals and institutions who are combating anti-values in Lima, and CAS and Junior Achievement reminded us of the importance of entrepreneurship for social causes.