Learning through exploration and experience
The IB PYP in Lower School
The concept of exploring and thinking in Lower School is related with how our students make sense of the things, places and people in their world by interacting with others, investigating and questioning, forming and refining ideas. They develop a wide-range of new knowledge and skills during these experiences and reflect on new ways to be creative, take risks and make discoveries.
We are extremely fortunate to have a rich and diverse culture in Lima, where our students have plentiful opportunities to make sense of what they see, feel and experience by exploring in many different ways. They gather information by visiting a range of local places, by learning from experts, and by trying new activities. These activities are transdisciplinary in nature as they connect and apply concepts learnt in their study of sciences, language, history, arts, maths, economics and geography. Through these experiences students also appreciate the relevance of what they are learning to life outside the classroom. They begin to better comprehend the concept of citizenship.
Students understand more easily the relevance of their learning when it leads to and involves action. For example, in 1st grade at the end of the unit "Sharing the Planet", the students organize a garage sale in which they sell reused items to raise money for other children in need. Our 2nd graders learn about the senses in their unit "Who We Are" and organize an activity day for blind children from CEBE San Francisco. Our 3rd graders become reallife explorers from the past and show their learning dramatically during their unit "Where We Are in Place and Time". Our 4th graders create their own plays in their unit of study about civilizations in which they compare civilizations from the past and today. In 5th grade, students use their ICT skills and creativity to write raps about the responsible use of technology for communication during their unit "How We Express Ourselves".
The PYP in Lower School dynamically stimulates the cognitive, emotional, social and spiritual growth of our students. It makes learning relevant and enjoyable and helps them to develop the attributes of the IB Learner Profile, such as inquirers, thinkers, risk-takers, caring and communicators. In our increasingly globalised world, such attributes are becoming essential features to be successful lifelong learners.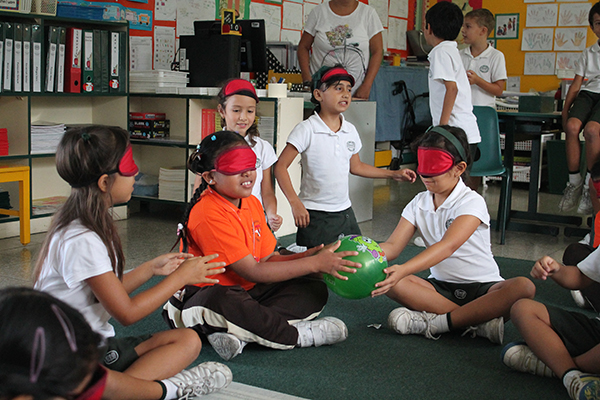 Sharing activities with blind children from CEBE San Francisco