Academic challenge and personal self-discovery in a supportive and caring environment.
The IB MYP in Upper School
The traditional role of a school has been to transmit a relatively stable collection of knowledge and skills from one generation (teachers) to the next (students). Before the age of the Internet, what a student needed to know could fit comfortably in a selection of books and on a succession of chalkboards. Now, that security is gone and we need to form students who can cope with a rapidly changing world, applying the understandings they develop in the classroom to the unfamiliar contexts of the future.
Since 2019 Newton College has been authorized to deliver the IB's Middle Years Programme (MYP) The MYP is an interdisciplinary program based on the development of conceptual understanding, academic and personal skills and content organized through the use of Global Contexts. The MYP challenges students and supports them as they find their place in the world, balancing academic rigour and self-discovery. Some of the key benefits of the MYP at Newton include:
The IB continuum of programmes
In 2014 the MYP was fully reviewed and relaunched. The new MYP provides a better bridge between the Primary Years Programme (PYP) and the Diploma Programme (DP). It reinforces key features of the PYP, namely, inquiry-based learning, international mindedness and conceptual understanding. It prepares students for the central elements of the DP: the MYP long-term project trains them for the DP extended essay; the Community Project for CAS; and Approaches to Learning for Theory of Knowledge.
A holistic programme that reinforces interdisciplinary connections
Whilst students in a music class learn how to create and play a variety of stringed instruments, in their physics class they study the behaviour of sound waves. The MYP allows teachers to carefully map the development of knowledge and skills so that they are naturally transferred from one subject discipline to another.
A strong fit for the demands of the 21st century
As we move into the 21st century there is an increased demand for many of the skills and attributes developed in the MYP. Employers value mastery of so-called 'soft skills' such as self-management, collaboration and critical thinking which are taught explicitly within the MYP. Universities in Peru and around the world are demanding students who can investigate and show transferable, conceptual understanding through frameworks like Design Thinking that are points of emphasis within our MYP programme.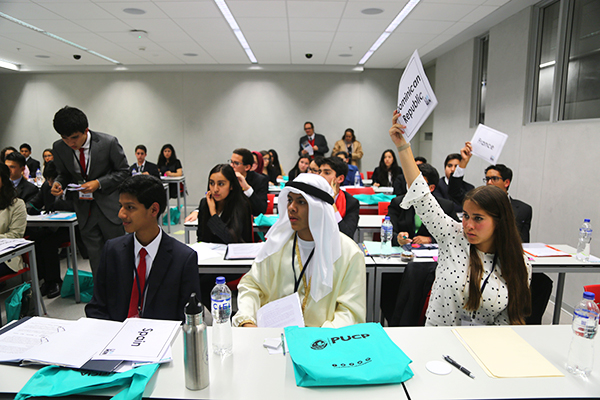 Newton students at LiMUN