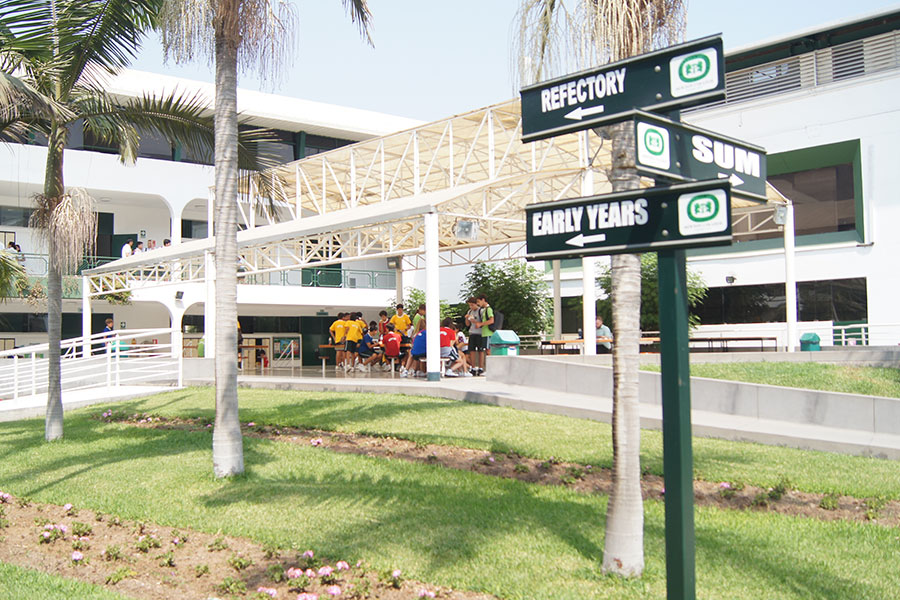 In September, the IB organization came to evaluate our Primary Years Programme and Diploma Programme. During their visit they evaluated seven standards:
A: Philosophy
B1: Leadership and Structure
B2: Resources and Support
C1: Collaborative Planning
C2: Written Curriculum
C3: Teaching and Learning
C4: Assessment
Each standard has a series of practices and for each practice there is a series of criteria. If the school fulfils all the criteria of a practice, it receives a commendation. Normally a school receives around 10 Commendations per programme. On this occasion our Primary Years Programme received 26 commendations and our Diploma Programme 27.
Our two programmes are being implemented very effectively, so much so, that the IB informed us,"I hope you do not mind that we have shared the good practice we have found in your school internally across the IB to alert our colleagues to the expertise you have to offer."
We are particularly pleased with the commendation for both the PYP and the DP: "The school promotes open communication based on understanding and respect." We strongly believe that it is only through understanding and respect that we will communicate effectively with each other and nurture empathy.
2019 MYP PERSONAL PROJECT FAIR
A new tradition is being born at Newton College, as we hosted for the second year in a row our MYP Personal Project fair on October 3rd.
The Personal Project is the culminating experience for students in the IB Middle Years Programme, spanning from Grade 6 to Form IV. It is a sustained, year-long research on a topic of choice designed to strengthen skills related to investigation, critical thinking and self-management. It is an import part of the IB continuum, as it links the PYP Exhibition in Grade 5 and the Extended Essay that students write during the final year in the Diploma Programme.
This year's projects covered a wide-range of topics, from the construction of sustainable water filters to the creation of a fashion line inspired by the Peruvian Amazon. The choice of topics reflected the students' strong commitment to social service, with many projects oriented to animal-assisted therapy, delivery and design of a year-long English language class for pupils in national schools, and visiting hospice shelters to provide relief through music.
Seeing visitors so touched by a video of a terminally ill woman learning to express herself through a song in Aymara, or a young filmmaker invited to share his work with Grade 1 students exploring the differences between "wants" and "needs", it was clear that our students are growing into well-rounded citizens, committed to giving back to their communities. We could not be more proud of them!
Form I Tambopata IDU Trip 2019
Dust clouds rose in front of us, patches of charred earth flashed past beside us, and hundreds of miles away dark smoke billowed into the heavens. The Amazon was on fire!
Or so it appeared to the world. To us the dust from the Tourism Police escort clouded our view as we strained to study the different types of land use out the bus window. All soon cleared as we journeyed by boat to Newton's Sachavacayoc Lodge on the Tambopata River.
There a new world enveloped us: one of towering trees, colorful, noisy birds, hungry monkeys, teeming insects, and sunshine. Behind this a hidden world of snakes, spiders, and predators.
Into this frightful world the Form I students were thrust. Into the dark the students marched: some to boats to hunt caiman, others into the dark rainforest. Leading us, knowledgeable guides with lights illuminating the world around us. Glimpses of tarantulas, snakes, and for one group a rare sighting of a jaguar emerged.
A caiman frozen in the light became a living lesson of adaptation and change. Cold unblinking eyes stared at the students. Fear melted into curiosity as hands reached to gently touch the gleaming smooth leather of the caiman's underside. Phones emerged to document this encounter.
The caiman's eyes blinked, and then it slid silently back into the river, reentering its hidden world unchanged. Changed were the students. The world around them was no longer something to scream in fear about but to explore.
And explore they did! For the next three days, students transformed themselves into young naturalists trekking through the rainforest, paddling oxbow lakes, sleeping in the outdoors (one night) all while observing and documenting the world around them. Exploration was followed by work sessions. Here, students used a field guide, collaboratively researched and written prior to the trip, to identify their documented organisms. The environment was sampled and mapped. The guides were questioned, and all the data collected in the students' ever present Tambopata Workbook.
And that dark, billowing smoke that had seemed so far away…it seems not so far away anymore. That is scary! Something to fear! Yet, as the students learned, fear is not something to run away from but to explore, to understand.
Now, the students are exploring that smoke and other threats to the rainforest in their Interdisciplinary Unit (IDU) - Restoring Human-Environment Relations in their science and individual societies classes, and discovering how we are connected to each other and the environment through interconnected systems in sustainable and unsustainable ways.
What will change? Stay tuned…
NEWTON joins GAIL
Newton College is very honoured to have been invited to represent the Global Alliance for Innovative Learning (GAIL) in South America. GAIL is an association of eight prestigious schools around the world, with different cultures but with one shared vision: they recognize education as a transformative experience to generate innovation, increase global awareness and promote multicultural respect. This partnership facilitates sharing expertise on teaching and learning, conducts educational research and organizes inter-school student exchanges.
By entering this alliance, there will be many benefits for Newton students, the most tangible being:
Our older students will be able to study for a period of time at another GAIL school, just as students from other GAIL schools will also be able to study at Newton College.
Ten of our students will be able to participate in the annual GAIL student conference, which every year is hosted by a different school.
Students will be able to participate in global projects with peers from the other schools.
Through our LAHC membership our students interact with peers from prestigious schools in the Americas. Through GAIL, our students will also be able to interact with peers from Kimball Union Academy (USA), Kristin School (New Zealand), Prestige College (South Africa), Robert Gordon's College (Scotland), Scotch College (Australia), Western International School of Shangai (China), and Woodstock School (India).
It pleases us greatly to be achieving our vision: to be recognized worldwide for our academic excellence and education style.
Professional careers related to science, technology, engineering and mathematics (STEM) are the ones that will require more qualified professionals in the future. However, global statistics show a vast difference in the presence of men and women in this field: according to UNESCO, only 35% of students in careers linked to STEM are women. Factors such as lack of information, prejudice or lack of confidence most influence young women today when deciding to complete higher studies in this field.
Seeing the need to empower young women, CISCO created "Girls Power Tech," a global mentoring initiative that provides tools and information to women between the ages of 13 and 18 about careers and job opportunities in STEM. On May 3rd our school was the host of one of the four simultaneous venues of the latest edition of Girls Power Tech, and 27 of our students from Upper School –along with 25 guests students from the High-Performance School of Lima– had the opportunity to share this learning day. Attendees participated in workshops in programming, cybersecurity, electronics, design thinking, and were counselled by professionals working in the sector about the educational and work opportunities that exist in these areas.
We are proud to have been able to collaborate with this initiative, which seeks to empower students to learn the benefits of a career in STEM and give them the opportunity to explore their passion for technology.
Old Newtonian Kerstin Forsberg, Prom 2001
When Kerstin Forsberg was a Newton student, her attention was drawn to animal care, so much that she started a Nature Club that inspired school authorities to dismantle the on-site zoo we used to have and find better homes for the animals. That was probably the first of many accomplishments she has achieved while caring for the environment.
Kerstin studied biology and focused on marine conservation. Since she founded the NGO Planeta Oceano in 2009, she has focused on educating and empowering coastal communities to sustainably manage their marine resources while also developing sustainable businesses that preserve the giant manta rays, instead of depleting their small population in the northern seas of Peru and Ecuador. Kerstin teaches the member of those communities to care for the ocean, enabling them to be guardians of the marine habitat and benefit from it.
Her efforts have earned her multiple recognitions worldwide. She has received The Whitley Award and has been named a Young Global Leader by the World Economic Forum. She was the only Peruvian in such list and the only woman in Latin America.
Most recently, Kerstin has been included in the list of the World's 50 Greatest Leaders by Fortune Magazine. Kerstin is leading a major social change in the communities she is working with. She has found her vocation in the organization she founded, and she has proved that through dialogue and collaboration, systemic changes can become positive social changes too.