Beginning in 2018, all Form IV students at Newton complete a Personal Project, which consists of a year-long investigation that challenges pupils to put an idea into practice, by identifying a personal interest and taking action to develop it. During the development of the project students document and reflect on the skills they will need and use in adult life, such as defining success criteria, using tools to support effective time management and strategies for regulating their emotions during a long and often demanding experience.
As expected, students chose a wide variety of topics ranging from inclusion of individuals with disabilities to scientific and technological innovations. If you would like to learn more, please click below and take a closer look at some of the Personal Projects created this year:
Model United Nations (MUN) is an activity in which students role play as delegates of the United Nations Organization, representing a specific country and committee. Here at Newton, our MUN Club aims to offer our pupils the opportunity to develop skills that will serve them in life in general, including public speaking, leadership, negotiation, researching, writing and creativity, while developing a deeper understanding of the world around us and diplomacy.
This year, we started by organizing the NewMUN 2018. Our conference was one of the highlight events of the season, hosting more than 180 students and teachers from different schools in Lima. Since then, our students have grown and matured their abilities as MUN delegates as well as organizers, and only in 2018 have obtained ten verbal mentions, ten honourable mentions, eight outstanding delegate awards, and four best delegate awards.
While there are still more local MUN events to participate, our biggest challenge is the Harvard MUN Conference in Boston in January 2019, in which 11 of our students and 2 teachers will represent Newton College. Students will be discussing topics such as International Regulation of Lethal Autonomous Weapons Systems and the Legal Status of Stateless Individuals, among others.
With the entrance of the school guard of honour, accompanied by the March of the Flags, we officially began our special assembly to celebrate Peru's 197th independence anniversary. The orchestra continued with a beautiful interpretation of the waltz, "Amarraditos", a wonderful prelude to the speech of honour delivered by our Form V student, Francisco Lyon. Francisco highlighted the characteristics of Peruvians, the traits that define our identity as Peruvians: courage, resilience and loyalty, and as examples of such traits he made a special mention of three of our members of staff: Mr. Roger Eslava, Mrs. Yolanda Pillaca and Mr. Felipe Villarruel. His speech was moving and inspiring.
Next we enjoyed the musical pieces interpreted by the school band, the violin ensemble and the Lower School choir. The Andean instruments ensemble added to the native spirit of the ceremony. Peruvian music made its presence felt with a very high standard of performance.
In his speech, our Headmaster alluded to Francisco's message, urging us to work together and demonstrate the conducts that reflect the school's core values so that we arrive at Peru's Bicentenary as a more just and happier nation. He emphasized that the bicentenary offers us the opportunity to work as an extended family for a common national cause.
Last, but not least, in a show that overflowed with tradition, colour and talent celebrating the diversity of Peruvian culture, the students who are part of the dance extracurricular groups presented us with several choreographies that reflected the Spanish, African and indigenous influences that formed our culture in different periods of Peru's history. We left the theatre, proud of our past and optimistic about the future, because if we treat each other with respect and empathy, if we act with integrity and commitment, Peruvians will solve the problems of the present and will create the foundations for a more just and happier future.
This year 765 boys and 60 girls from 10 different schools competed at football in the XXVIII edition of Copa Newton. Some institutions brought two teams and so, in various categories, it was possible to form two leagues. This resulted in more children than in past editions being given the opportunity to participate in healthy competition.
Also, as this year the tournament expanded to other sports, six teams competed at volleyball and four teams competed in basketball. All the students showed a lot of passion, skill and fair play on the fields; and their parents demonstrated a lot of passion, colour and camaraderie off the fields.
In football, Newton teams obtained three first places and four second places, including the girls' category who came in as a runner-up behind Roosevelt. In basketball U-13 girls, Newton was the absolute champion. In volleyball, the tournament was played as a festival thus all participants received a medal.
We thank all athletes for their sportsmanship and commitment, and look forward to next year's edition.
"What makes an expert knower?" was the unifying Theory of Knowledge subject theme for the first Form VI interdisciplinary trip to Puerto Maldonado and to our Sachavacayoc Study Centre in Tambopata from May 20th to 29th. This expedition proved to be a great opportunity to explore the world we live in from multiple perspectives and apply knowledge in creative and productive ways.
Students worked together gathering data for biology, chemistry, physics, geography and economics. Geography surveys involved interviewing locals and tourists about the impact of tourism in the market in Puerto Maldonado and measure a series of transects at points near the river. The students devised experiments to test the validity of scientific methods like the weight of leaves processed by leaf cutter ants, how quickly termites repair their tunnels, grasshopper population densities, the levels of nitrates in the soil, CO2 in the air, UV in the sunlight, among others.
The journeys into the jungle, the lake, and a night on the platform gave them a chance to empathize with the diversity and wonder of the world around us. They had opportunity to learn from world-class local guides, set themselves challenging physical tasks, and discover skills and abilities they never knew they possessed, whilst reflecting on what would make them expert knowers.
Daniel Lobatón of the 2001 Promotion is the current Creative Director of Saatchi & Saatchi in New York. He was part of the team that created the Tide detergent advertisement that featured in the 2018 Super Bowl. The advertisement cleverly parodied other well-known commercials and won a special Clio award for best publicity strategy during the sporting event.
Daniel always showed his creativity at school and studied Communications at university and then a Master's Degree in Marketing and Administration at IAE Gustave Eiffel-Université Paris-Est Créteil. In his relatively short career he has already obtained prestigious prizes such as the Cannes Lions, Clios, One Show, London International Awards, among others.
Daniel is a good example of how our students apply throughout their lives the attributes and skills they developed whilst studying our international curriculum. Congratulations Daniel! We look forward to your next commercial!
You may watch the full ad here: https://www.youtube.com/watch?v=6gGXnE1Dbh0
Juan Pablo Tabja completed the IB Diploma Programme in November 2017 and obtained the maximum score of 45 points. To put this remarkable achievement into  perspective we need to refer to the official 2016 IB statistics for the Diploma Programme (since the 2017 world statistics have not been published yet):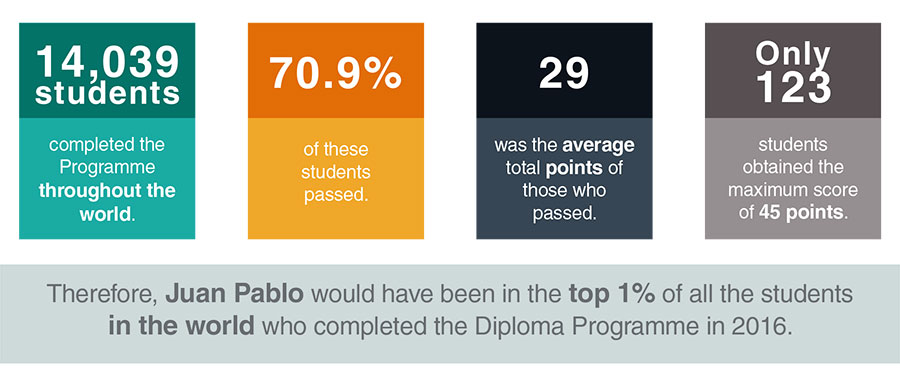 The IB Diploma Programme taught Juan Pablo the very important soft skills of resilience, patience, empathy, humility and time management. He found something heartening about the 'collective suffering' — the sharing of challenges with your closest friends, who understand you, give you advice and show you their support. Such collective suffering helps you to make bonds which are extremely hard to break.
Juan Pablo plans to study Medicine at university. We are confident he will become a very successful doctor.
On Monday, 2nd April we opened our new campus specially designed for Level 1. We received the children in a new and attractive environment, in which the spaciousness, lighting and ventilation of the classrooms stand out, as well as the excellent acoustics. Each classroom has separate toilet facilities for girls and boys, as well as for the teacher. They are also equipped with a kitchenette and an art space specially designed for the age of the children. There is a large play area equipped with new games and wooden paths so that the children can circulate on tricycles and in toy cars and thus develop their motor skills and independence.
During these first few days of classes the children have felt at home and very happy both inside the classrooms with their teachers and outside them. This is the completion of the first phase of this ambitious project which has considered other innovations which we will soon reveal.